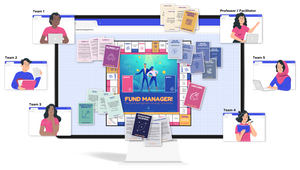 The Fund Manager! Mini-Bootcamp is a deeply immersive digital workshop on how to build and scale early-stage venture funds.
The Mini-Bootcamp is built around the Fund Manager! simulation, but also goes beyond that with mini-lectures and advanced exercises content.
Consider this an interactive, hands-on, crash course in how to build and succeed with a venture fund. We cover the entire lifecycle of a fund from team formation, structuring and raising your fund from LPs, strategy of investing, value-creating, pushing towards successful exits all driven by fund metrics.  
Dates: 30 Jan - 1 Feb 2024 (3 days)
Time: 17:00 CET – 22:00 CET (each day)